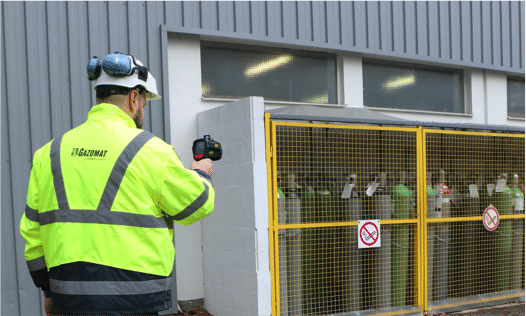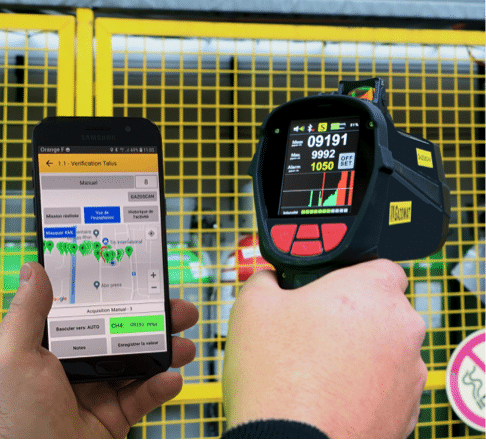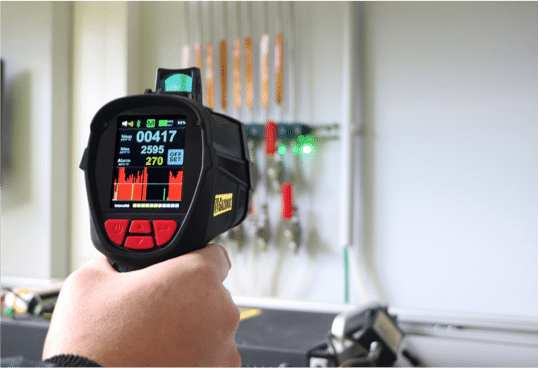 NEXT GENERATION OF THE GAZOSCAN™ NOW AVAILABLE FOR HIGH PRECISION REMOTE METHANE DETECTION
GAZOMAT, specialized in gas leak detection systems, introduces an enhanced version of its hand-held laser-based remote methane detector, the GAZOSCAN.
Keeping all the features that made it stand out from most competitive brands - ultralight weight, easy handling, methane selectivity, high sensitivity, detection through glass – the latest GAZOSCAN offers new functionalities and over 100m (330ft) detection capacities that represent a major step forward for conducting safely and efficiently natural gas leak inspections or emergency interventions in hazardous circumstances and hard-to-access areas.
With a doubled detection distance, the GAZOSCAN fully complies with the US Emergency Guidebook recommendation of a 100m (330ft) safe distance from leakage.
Its three measuring speeds - Fast, Medium and Slow – with a shortest response time of 0.1s – allows for rapid spotting of methane gas, before determining with precision the source and concentration level of the leak.
Aiming remotely with precision is now extremely easy. The built-in sight on the detector's barrel will show a red dot to help hit the target point at a distance, even in bright sunlight. Desired target, aim indicator, red dot and large display screen, all remain within the user's field of sight.
The device is calibration free, intrinsically safe. Bluetooth allows for data transfer in real-time and, the device can connect (optional) to GAZOSURVEY app on the operator's mobile phone enabling GPS leak localization and survey traceability, note entry as well as picture capturing and storage.
First reactions to the New GAZOSCAN device are extremely positive across the gas industry, but not only. Fire brigades and even police force departments show a great interest, says Alan VIDAL, GAZOMAT General Manager. They can see all the equipment's potential for securing their teams' interventions. Identifying fast any explosion hazard before penetrating a site on fire makes a tremendous difference for emergency responders. Quite frankly, it is more often than not a life and death issue, underlines Alan VIDAL.
More information on : https://gazomat.com/en/products/gazoscan-2/
About GAZOMAT: GAZOMAT is a manufacturer of gas leak detection equipment. A pioneer and leader in highly sensitive laser technology for methane leak detection, GAZOMAT was also the first to develop a network survey software for total traceability of network inspections. With over 30 years of experience working with major gas companies around the world, GAZOMAT continues to innovate and provide an extended set of solutions dedicated to natural gas network survey and fugitive emissions monitoring.
Follow us
LinkedIn: https://www.linkedin.com/company/GAZOMAT/
Twitter: https://twitter.com/GAZOMAT_
YouTube: https://www.youtube.com/channel/UCk9tj54bElO2LQkrdgMlsRQ
Company website: https://www.gazomat.com